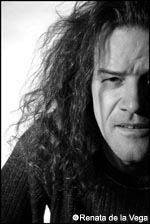 Né le 09-08-1962 à Thionville France
Photographe autodidacte originaire de Lorraine, STEPHANE ROUPPERT part une dizaine d'année vivre à Bordeaux,
Puis s'installe en région parisienne. Toujours passionné de photo. Il décide de présenter des clichés à deux trois concours Nationaux, pour voir si son travail de photographe est de bonne qualité.
Il est récompensé par un premier prix. C'est  le déclic.

Il décide de se perfectionner et reprend des études de photographe ou il obtient son diplôme à l'école des techniques de l'image CE3P. Tout en sachant qu'il n'en fera pas son metier principal, il prend le parti d'être photographe auteur et de travailler sur des sujets qui l'aime.
A self-taught photographer from Lorraine, STEPHANE ROUPPERT hand about ten year living in Bordeaux.
Then settled in Paris. Always passionate about photography. He decided to make two shots three National Contest, to see if his photographic work is of good quality.

He was awarded first prize. It is the catch. He decided to develop and resumes Photographer studies where he graduated from the school of image techniques CE3P. Knowing that it will not make its core business, it takes the party to be a photographer and writer to work on topics like.
Prix
2004 Photo Station 1° prix toutes Catégories
2012 Les 4° Printemps des Artistes Rosnéens à Rosny sous bois 1° prix Photographique
Membre de
UPP
SAIF
CROWDSPARK
AFP
ALAMY
BELGA IMAGE

Parution
2008 Livres DR édition UPC
2015 Blurd Parking Of Paris

France TV Info
France TV Info
France TV Info
France TV Info
France TV Info
France TV Info
France TV Info
France Culture
France Culture
Actu Orange
Arte TV
Le point
Le point
Le point
Le point
Le point
Humanité
Le Quotidien libre
L'Emission Politique
Marianne
NouvelObs
NouvelObs
Actu Orange
Courrier International
Le Courrier de l'Atlas
RTS
Diaf-TV
RTS
MACLEANS.Canada
CTV NEWS Canada
Link Online
KOD Media
POP 2017
La Dépêche de Tahiti
Front de gauche
Video


Expo
Parking of Paris
2011 Les Caves St Sabin Soirée Dun's Paris
2012 4° Printemps des Artistes Ronéens Rosny sous bois
2013 Laureats des Printemps des Artistes Ronéens 2012 Rosny sous bois
2014 Portes ouvertes des ateliers d'artistes de Montreuil